If you're planning on getting buried in Colma, you might want to do something about it — soon.

That's because an all-new Bay Area housing crisis is just around the corner.

There are 1.5 million dead people in Colma already — and room for thousands more. But no one knows exactly how many thousands.

"We're optimistically projecting another 40 years," said James Carlson, executive director of the Hills of Eternity Memorial Park, where, it seems, eternity comes with an asterisk. Forty years sounds like a long time everywhere but the undertaking business, which traffics in eternity. "If you're planning on dying, you better come see us."

Carlson said his three cemeteries — Hills of Eternity, Home of Peace and Salem Memorial Park — can accommodate perhaps another 5,000 paying customers. (On top of that, he said, the cost of a standard grave is going up in July, from $8,000 to perhaps $8,500.)

The historic section of the Cypress Lawn cemetery is nearly filled up. The prime spots in other Colma graveyards are largely spoken for. There are newer tracts, on the northeast side of Hillside Boulevard, that are easier to move into based on the "location, location, location" principle of real estate. And those are being snapped up too.

Woodlawn Cemetery has about 5 acres of usable space left, out of its 63 acres, said general manager Hector Gonzalez. That will last another 10 years, maybe. Just to make sure, Woodlawn is building a resplendent new granite mausoleum to accommodate more customers above ground. Construction began a few weeks ago.

Woodlawn can fit about 1,000 people per acre in traditional burials — fewer in elaborate family plots.

"It depends on what product goes in there," Gonzalez said matter-of-factly, a "product" being one of the nicer things that some Woodlawn residents have been called.

It's the same story at urban cemeteries everywhere, as Baby Boomers quickly become the opposite of babies, with up to 100 percent of them expected to die.

Consider historic Green-Wood Cemetery in Brooklyn, home to 560,000 dead (including Boss Tweed). It will reach capacity in 10 years. Or Arlington National Cemetery in Virginia, home to 400,000 dead (including John F. Kennedy). It will hit capacity within 25 years.

Père Lachaise Cemetery in Paris, home to 2 million dead (including Chopin) and stuffed like a chicken cordon bleu, has already taken to leasing out its grave sites in 10-year increments. It evicts the remains of customers whose loved ones are unable, or no longer around, to pay. Those remains get moved to an ossuary — a communal residence for bones. (The famed catacombs of Paris already house 6 million people in a similar fix. Because each human body has 206 bones, that comes to a staggering 1.2 billion bones beneath Paris.)

Undertakers call crypt rental the "European model" of undertaking. People have been buying cemetery space in the Old World a lot longer than they have in the new. No sense paying good money to take up prime real estate, the theory goes, after everyone who remembers who you were has shuffled off, too.

"Something is going to have to change in Colma at some point," said Rich Rocchetta, a docent with the Colma Historical Association. "Each cemetery is different, and each cemetery has different amounts of space. Some of them have very little space."

ferd/premium/article//content/photo.tpl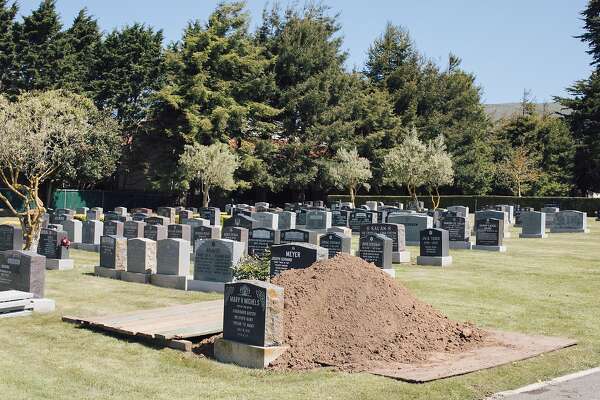 e ferd/premium/article//content/photo.tpl
How many years remain until Colma fills up is hard to guess. Decades ago, the cemeteries sold off excess plots of land to build new-car dealerships. No one is selling cemetery land to car dealers any more.
At Cypress Lawn, President Robert Gordon said 5 acres remained unsold, largely in a new tract east of the historic cemetery, and that each acre accommodates about 1,500 folks. Gordon has his eye on snapping up nearby vacant properties. One of them is the defunct nine-hole Cypress Golf Course — a cemetery and a golf course being vaguely similar in their devotion to greenery and to challenging matters.
"To say we have five years left is not giving the right message to the market," Gordon said. "And I'm always finding land inside our developed areas that I can open, or sell differently."
Cremation, once the frowned-upon, low-budget "C-word" in the funeral trade, could be an answer. It's more popular than ever before. It's one way to save on cemetery real estate and pricey funerals. This year, every other dead person will be cremated. Within two decades, the undertakers say, 4 out of 5 people will be.
ferd/premium/article//content/video.tpl
e ferd/premium/article//content/video.tpl
Gordon said Cypress Lawn has lots of tucked-away places on its grounds suitable for urns or cremated remains that might not be usable for coffins. If cremation continues to increase in popularity, Cypress Lawn has "a few decades, at the very least," he said.
Take a drive around Colma. Except for Holy Cross — which says it's got 100 acres lying around, unoccupied — the town is practically shoulder to shoulder already.
Touring the famous graves of Colma, always a pleasant way to remind oneself that life is precious and the clock is ticking, has never been more fun. And there have never been more dead bodies in Colma than there are right now.
At Hills of Eternity, you can call on Levi Strauss and Wyatt Earp, two fellows who riveted the Old West. At Holy Cross, you can borrow one of the 15 baseballs from the tomb of the great Joe DiMaggio and play a quick game of catch on the lawn above his head. At Cypress Lawn (be sure to pick up at the front desk a handy guide to the famous residents), you can call on San Francisco newspapermen William Randolph Hearst and Charles de Young, members of rival families now at rest only a few steps from one another and who were always pleased to meet their readers.
There's always something happening in a cemetery. Squirrels and birds dash about, dodging the lawn mowers. Mourners drop by, putting fresh flowers in. Groundskeepers cruise around in golf carts, taking dead flowers out. Every once in a while, a hearse pulls up with a new neighbor, slowly, followed by a line of cars with their headlights on.
Cemetery insiders say that if Colma does fill up, it will be nothing less than the punch line of a 106-year-old cosmic joke. The cemeteries of Colma were built to accommodate the occupants of the 19th century San Francisco cemeteries. After space ran out in San Francisco, civic leaders in 1912 ordered the cemeteries shut down and their occupants moved en masse to Colma.
Once, San Francisco was too crowded for dead people. Someday, Colma will be, too.
Steve Rubenstein is a San Francisco Chronicle staff writer. Email: [email protected] Twitter: @SteveRubeSF
Big names in Colma
Some famous residents of Colma's cemeteries, and where to find them:
William Randolph Hearst, newspaperman: Cypress Lawn
ferd/hearst/templates/premium/article/content/related-links.tpl
e ferd/hearst/templates/premium/article/content/related-links.tpl
Levi Strauss, denim jeans kingpin: Hills of Eternity
George Moscone, slain San Francisco mayor: Holy Cross
Bill Graham, rock music showman: Eternal Home
Joe DiMaggio, baseball player: Holy Cross
Wyatt Earp, lawman: Hills of Eternity
Charles de Young, Chronicle co-founder: Cypress Lawn
Etienne Guittard, chocolate maker: Woodlawn
Lincoln Beachey, stunt pilot: Cypress Lawn
Emperor Joshua Norton, protector of Mexico: Woodlawn
Maximillian Fonzie, dog: Pet's Rest
Source: Colma cemeteries buried in demand as shortage of land lies ahead – SFChronicle.com